National Building Group Inc.


Fabric Building Division

National Building Group Inc. is an official distributer of Calhoun Super Structures and industry leader in pre-engineered Fabric Building Construction.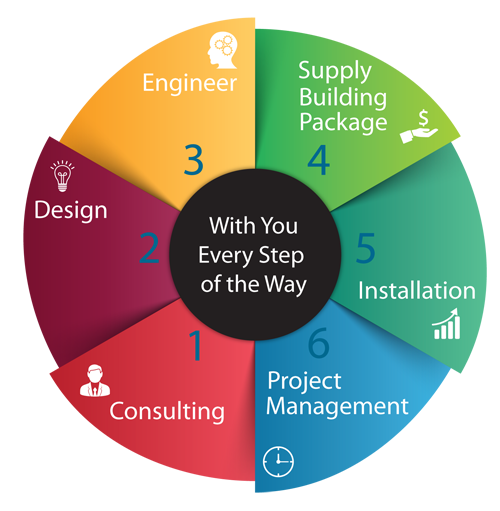 We offer a range of products and services from self-assembled fabric building kits, "Supply Only" to custom designed, fully installed "Turn-Key Fabric Buildings", and anything in-between. Bright, affordable, and versatile, these structures are perfect for a variety of uses in the agricultural, industrial, commercial, and equestrian industry.

NBGI works along with Calhoun Super Structure Fabric Buildings using cutting edge technology, including a 3D Finite Element Non-Linear Analysis. This piece of technology analyzes the snow, rain, wind, and seismic conditions of the building site in order to design a building specifically for your site and needs. We provide a full set of engineered stamped drawings for your foundation and building.

Our designs are fully customizable to suit your aesthetic tastes and company needs. We offer modifications that maximize space, utility, and function. These modifications include various structural profiles to choose from, steel sides, ventilation systems, side entry doors, overhangs, and so much more! Check out our options!
A Customer-Centred Experience
With over 10 years of professional service and expertise, we've earned the reputation as a dependable, customer-centered company. We guide our customers from concept to completion to ensure that our products and services meet and exceed their expectations. To accomplish these goals, we've included on our team only the finest manufacturers, engineers, and installers to build durable, weather-resistant buildings.

No matter what stage you're at with your building project, we're here to offer our services, including the following:
Consultation
Design
Engineering
Supply-only
Extensions and Upgrades
Installation
Turn-key project management
Committed to Excellence in Product & Service
National Building Group Inc. is a premier metal building supply company that is committed to providing top-quality customer-engineered metal buildings. These buildings meet design specifications, perform reliably, and look great for decades to come.
Total Project Management
We offer ongoing consultation throughout the building process. This means we consider the best options available for material, design, and manufacturing. We deliver our building materials straight from Calhoun to your site. If you choose a "turn-key" building project, we'll erect the Calhoun superstructure on site and manage the project from start to finish, saving you time, stress, and money.

Need help getting a building permit? No problem! We can help with that too! Our team of engineers and architects help our customers not only with design but also with the building permit process.
Learn More About our Fabric Buildings by Choosing Your Industry